Philip Hogarty Rapid Play & Irish Blitz Championship
21-Apr-2011
The above two tournaments are taking place on Saturday 14th May 2011 at the Academy Plaza Hotel, Findlater Place (off O'Connell Street), Dublin 1.
Click here for full details.
Mick Germaine Cup - team event for juniors / novices
03-Apr-2011 The Leinster Chess Union (LCU) is pleased to announce a new competition for teams of juniors / novices that will take place on Saturday 28th May 2011 in the Teachers Club, 36 Parnell Square West, Dublin 1. Registration is from 10am to 11am with round 1 starting promptly at 11am. The event is for teams of 4 players who have no ICU rating or have an ICU rating of 900 or less (by reference to the May 2011 rating list) and who are under 16 years of age on 1st May 2011. It will be a swiss tournament with 5 rounds of matches with a break for lunch for one hour at around 1pm. The time control is 30 minutes per player per game. All equipment will be provided by the LCU.
Entry fee is 16 euro per team which can be paid on 28th May at registration. Teams from schools can also enter the tournament. Teams will be competing for the "Mick Germaine Cup".
For entries and / or further enquiries email
Pat Fitzsimons
at mastergame100@hotmail.com, or by phone at 087 4195253.
Fixtures for Cup competitions
02-Apr-2011 Fixtures for the Branagan Cup, Killane Shield and the William Brennan Trophy have been published. First round matches to be completed by 15th April. Click the links in the left panel for full details.
Kilkenny Chess Club win their first Armstrong Cup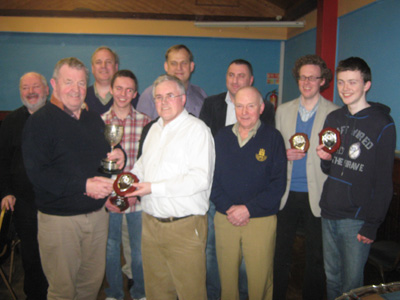 13-Mar-2011
Kilkenny have been crowned Champions of Leinster for the first time in the club's history. Having finished as runners up in four of the last five seasons they finally got their hands on the Armstrong Cup by beating Bray / Greystones 6 - 2 in the final round. They finished the season with 62 points, 1½ points ahead of Gonzaga in second place. They were pushed all the way by Gonzaga who finished the season strongly by winning their final three matches 7 - 1. The winning point that secured the title was won by a stalwart of Irish chess, Eamon Keogh. Incredably, considering the number of years that Eamon has been playing in the Leinster leagues, this was the first occasion he has played on a winning Armstrong Cup team. Pictured are members of the winning Kilkenny team. Back row from left to right, Sean Bradley, Maurice Buckley, Ryan Rhys Griffiths, Alexander Baburin, Darko Polimac, Mark Quinn and John Courtney. Front row Eamon Keogh, Peter Scott, LCU Leagues Controller and Jack Lowry, President of the Kilkenny Chess Club.
North Dublin Chess League
06-Mar-2011
Members of Naomh Barróg Chess Club are planning to run a league during the summer months for players rated 1400 to 1800. This is an individual event. Players will be divided into sections and the format will be round-robin. Click on the following link for full details.
North Dublin Chess League
Leinster Chess Championships
21-Feb-2011
The Leinster Chess Championships are taking place over the Easter weekend, 22nd to 24th April 2011. There will be a prize fund of €2,500, subject to entry. There are four sections - Masters (2000 +), Majors (1600 - 1999), Challengers (1200 - 1599), Juniors (1199 or under, including unrated players). The venue is the Teachers Club, 36 Parnell Square West, Dublin 1. Full schedule and details on the entry form.
Download entry form here.
Final Round of the Leagues
15-Feb-2011 The final round of the leagues will be held on Sunday 13th March 2011. The venue is the Teachers Club, 36 Parnell Square West, Dublin 1. Divisions 2, 4 and 6 (Heidenfeld, O'Hanlon and Bodley) will be played in the morning. Divisions 1, 3 and 5 (Armstrong, Ennis and BEA) will be played in the afternoon. The morning session will commence at 10am and the afternoon session will commence at 3pm. Teams must bring their own boards sets and clocks.
LCU Cup Competitions
13-Feb-2011
Entries are now being accepted for the Branagan Cup, Killane Shield and the William Brennan Trophy. Matches will be played over six boards in all matches. There will be no obligation for teams to nominate a panel of players in any of the competitions. Players may only play for one team in each of the three competitions. The Branagan Cup is limited to players who have played in the Armstrong Cup (Division 1) or the Heidenfeld Trophy (Division 2) in the current season. The Killane Shield is for players who have played in Divisions 3, 4, 5 and 6 in the current season. The William Brennan Trophy is open to all players rated below 1500 on the January 2011 rating list. Fixtures and results will be posted on the website (links in the left panel).
Download entry form here.
Ballinasloe retain O'Connell Cup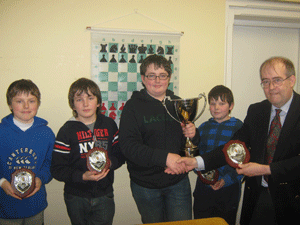 01-Feb-2011
The first of the Leinster Chess Union's league competitions for 2010/11 was completed recently with Ballinasloe Chess Club's novices league team winning the O'Connell Cup for the second year running. The Novices league is in its second year of existence and is designed to give clubs newer, predominantly younger players, valuable competitive experience in a team and league environment. After an exciting contest involving 7 teams, the Ballinasloe youngsters emerged victorious by the narrowest of margins, on tie break from the Blanchardstown Rooks with whom they finished level on points. Ballinasloe's 3 -1 win in the individual game between the teams earlier in the season ultimately proved decisive. Elm Mount Chess Club finished in third position. Gerry O'Connell from St Benildus Chess club very kindly donated the Cup for teams competing in the Novices league. Follow the Novices Division link in the left panel for detailed results. Pictured above are the winning Ballinasloe team receiving their trophies, from left to right, Daniel McMorrow, Conor Bleahene, Shane Bleahene, Conor Kelly and Gerry O'Connell.
Postponements
02-Dec-2010 Due to the adverse weather conditions all matches scheduled for Sat 04 Dec 10 have been postponed. The matches will be re-scheduled in the New Year. If the weather has not improved next week team captains should give their opponents as much notice as possible if they are unable to travel. Teams should contact the divisional controller in advance if they wish to seek a postponement.
Christmas Blitz
20-Nov-2010 The annual LCU Christmas Blitz will take place on Wednesday 15th December 2010 in the Ierne Sports & Social Club (home of Elm Mount Chess Club), Gracepark Road, Drumcondra, Dublin 9. Registration will be between 7.45 and 8.00 pm, with play commenceing at 8.15 pm sharp. Entry fee 5 Euro. This is always a great fun night, so come along and get the Christmas season off to a flying start. There will be loads of prizes and finger food (included in cost of entry) will be served during the evening.
League Rules 2010 - 2011
12-Sep-2010 The rules for the 2010 - 2011 season are now available to download. Team captains should print a copy of the rules and have them available when they are playing their home matches (Rule 6.10). The rules relating to the declaration of players have been amended (Rules 5.4 and 5.5). Team captains should familiarise themselves with the new rules especially relating to the use of substitutes during the season.
City of Dublin Championships
15-Jul-2010 The 2010 City of Dublin Championships will take place from Friday 3rd September to Sunday 5th September 2010. The Venue will be the Academy Hotel, 10-14 Findlater Place, Dublin1. The venue is centrally located just off O'Connell Street. There will be four playing sections - Masters (2000 and over), Major (1600-1999), Challengers (1200-1599), Juniors (under 1200 and unrated players).
Fixtures for the 2010-2011 season now available
26-Jun-2010 Next seasons fixtures for divisions one to five have been published and may be viewed by following the divisional links on the left. They are also available in Excel format, click on the 'LCU Fixtures 2010 - 2011' link on the left to download. A new feature Upcoming Fixtures has been added to the site. This will be updated weekly during the season and will list the fixtures for all divisions for approximately the following two weeks.
Elm Mount Chess Club win their first Armstrong Cup
Elm Mount Chess Club have won the Armstrong Cup and are Champions of Leinster for the very first time. In a very tense and exciting finish the team from Drumcondra in North Dublin defeated St Benildus 6 - 2 during the final round of matches played on Sunday 14th March in the Esplanade Hotel Bray, Co Wicklow. When pre match favourites Kilkenny beat a weakened Dublin University team 7 - 1 the signs were ominous that Elm Mount or St Benildus who had shared the lead on 51 points entering the last round a point and a half ahead of third place Kilkenny, could garner enough points to ensure victory. In the style of champions they battled hard in every game where even a draw conceded could have meant the difference between winning and losing. In the end they recorded their best win of the season winning six of the eight games, losing just two with no draws. After four hours of play and watched by his very nervous team mates and a large crowd, the winning point was secured appropiately by the Elm Mount captain Ciaran Quinn when he defeated Tim McCarthy in the last game to finish. This victory was Elm Mount's tenth of the season, their only defeat occurred in the second round when they lost 4 ½ – 3 ½ to eventual third place team Gonzaga. The win was achieved as a result of a great team effort by all the Elm Mount players as witnessed by the fact that they only needed to use one sub during the whole season (Terry Creighton contributing a very valuable point in round 8). Seven of the panel played in all eleven rounds and the eight member played in ten rounds, missing only one game due to illness. The Elm Mount team was Ciaran Quinn (Capt.), Bernard Boyle, Oliver Dunne, David Fitzsimons, Zygimantas Jakubauskas, Alan MacDonagh, Gerard MacElligott and Adam Spirek.
The final standings were - 1st Elm Mount A 57 Pts., 2nd Kilkenny 56½ Pts., 3rd Gonzaga 53½ Pts., 4th St Benildus 53 Pts. Spare a thought for Kilkenny who have finished runners-up in four of the last five seasons. At the other end of the table Elm Mount's second team were unable to hold on to their Division 1 status and were relegated along with Celbridge to play in Division 2 next season.
Heidenfeld Trophy (Div 2)
After being relegated from the Armstrong (Div1) last season, both Malahide and Rathmines have bounced right back at the first attempt by winning and finishing second respectively in the Heidenfeld Trophy (Div2). The relegation spots were filled by Rathhmines B and Wicklow.
Ennis Shield (Div 3)
In the Ennis Shield (Div3), victory and promotion went to St Benildus. Balbriggan secured promotion for the second year in a row by finishing second. Phibsboro and Finglas finished in the bottom two and will play in division 4 next season.
O'Hanlon Cup (Div 4)
Rathmines secured a second promotion for the club by winning the O'Hanlon Cup (Div4) title. The second promotion spot is still undecided. Portmarnock finished second but face a challenge from Naomh Barróg who finished 3rd a ½ point behind. Naomh Barróg have the right to challenge Portmarnock under rule 4.4 of the Leinster Chess Union league rules.
BEA Cup (Div 5)
The BEA Cuothp (Div5) was won by Celbridge, second place went to Naomh Barróg. Both teams are promoted to division 4 next season. As there were only eleven teams in the BEA this year only one team gets demoted. Inchicore were the unlucky team here.
Bodley Cup (Div 6)
The Bodley Cup (Div6) had only seven teams competing for the title this year. There were two new entries to the leagues this year. Cavan rejoined the ranks after many years absense and Ballinasloe became the Union's newest member. Both teams proved too strong for the rest of the opposition and cruised to promotion. Ballinasloe won the individual battle and secured the title at their first attempt.
To finish…….
I would like to take this opportunity to thank the controllers of the various divisions for their help and dedication during the season. Without their assistence the leagues would not run as smoothly as they do. To Mervyn Honner, John Crowley, Gerry Smith and Denis Dempsey thanks for a job well done.
Peter Scott
Leinster Chess Union Leagues Controller
17-Mar-2010
LCU Blog
The LCU blog is up and running. Your webmaster has set up this great facility to get all you enthusiastic chess players discussing and debating all things chess. It is also a great location to post notices and reminders of upcoming chess events. To start blogging or if you just want to peruse other players rambles or grumbles click the link on the right hand panel.
Daily Puzzles
We are delighted to announce that J.J. Walsh, Irish Times chess correspondent, has agreed to provide us with puzzles from his Irish Times columns. He will be dipping into his puzzle archives stretching back 30 years. These will be put up here for our entertainment and edification!
Future Website Plans
We have plans to expand the use of this website so that it incorporates more than just fixtures and results. Our plans are to publish news stories, annotated games, player profiles, club profiles etc... and to encourage players to visit and use the site and give some wider exposure to chess activity. To make this a success and a website we all share in and benefit from, we are asking for input from clubs and players. The long term aim is that each club would have an individual login through which they can submit content without needing action from the webmasters. While this is under construction we would like people to submit news stories and annotated games (in pgn format), reuslts with a short report of matches etc... which we will manually place on the website.
At present on the website we have
information regarding each club here
. Can you all please review the section relating to your own club and ensure the details are accurate and sufficient? This information can be a valuable resource to people looking for chess clubs and attracting new players. It is important that it contains contact details and accurate up to date information.